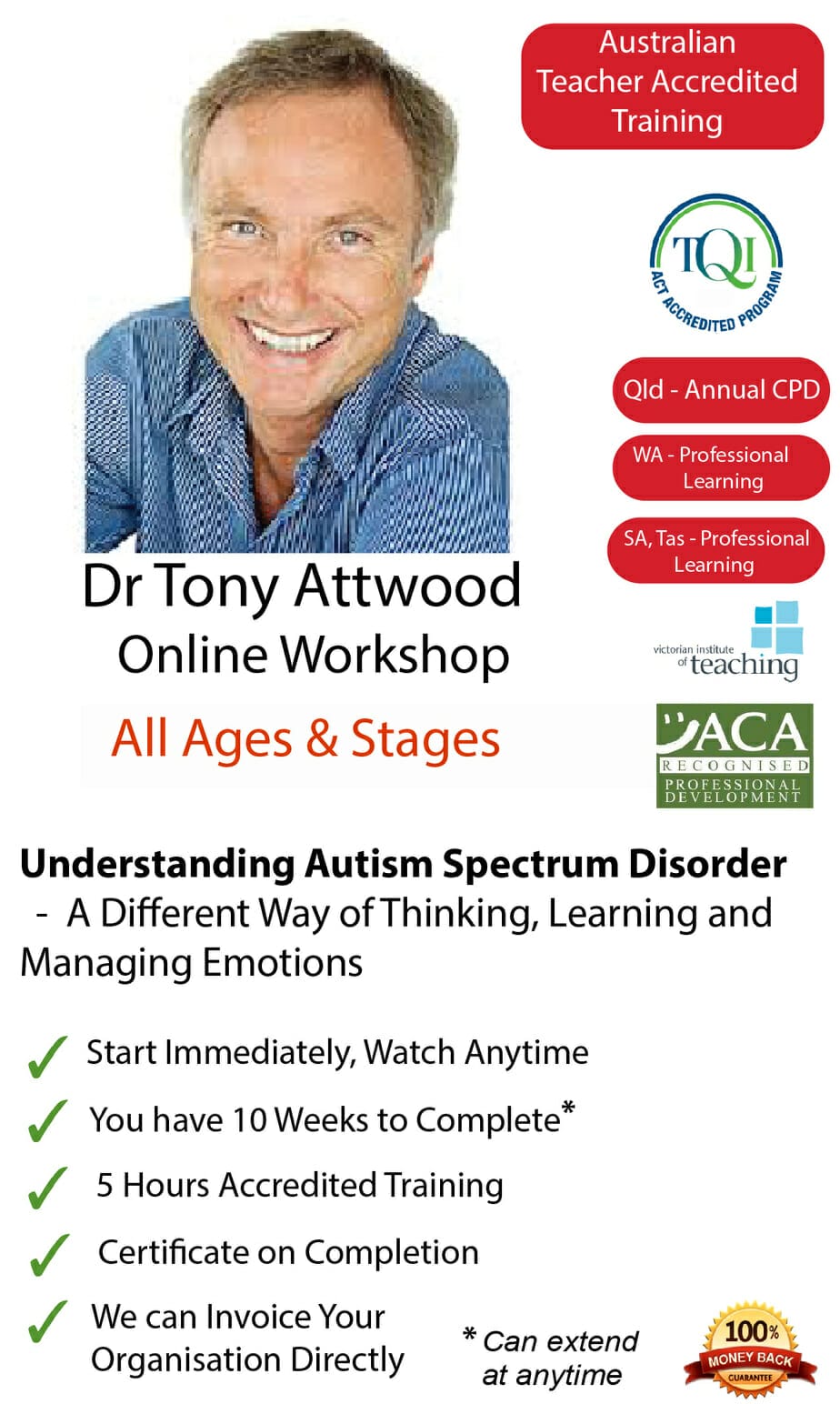 Summer School – Accredited Online Learning – Two Courses: Understanding Autism Spectrum Disorder
Course 1 –  Dr Tony Attwood – A Different Way of Thinking, Learning and Managing Emotions
Course 2 – Sue Larkey – Teaching Strategies & Behaviour Support
Start Now – you can start immediately and watch anywhere, anytime and on any device. The Course is self paced and you will have access to all 10 hours of training which you can view at a time on any device. After purchasing this course we will send you access details. 3 Months to complete (you can extend at anytime)
To Register Now & Pay Later/Invoice Your Organisation – explained below
Register Now & Pay Later
We can start you on the Course and invoice your Organisation directly to pay later.
Email Geoff at [email protected]
Groups - Register Now & Pay Later
Email Geoff -  [email protected] the following:
Person's Full Name (for Certificate)
Person Direct Email Address (for the login and course details)
School/Orgnanisation Name
Person Name and Email to send invoice
This Summer School Accredited Training Course includes:
●  2 x 5 Lesson Courses
● 10 Hours Content PLUS
✅ Bonus 2 hours special training video after completion & certificate
● Accompanying Handout
● 10 weeks to complete the course
● IT Support
● Certificate Issued on Completion of Course
● 30 Day Guarantee
● Tax Invoice Issued Immediately
Bonuses
✅ Transcript of Whole Course (refer back to forever)
✅ Webinar & Certificate (2 Hour Teacher Identified)
✅  Q & A with Sue throughout the course
✅ Ongoing Individual Email Support  - Direct access to Sue's personal email
✅ $20 Off Sue Larkey 5 Hour Online Course Coupon
For NSW Teachers
On Monday 30th November 2020, the NSW Government announced changes to the way NESA endorses professional development.
For ALL existing NESA Providers, like us, can ONLY  log NSW Teacher's PD hours for completed courses up until Midnight on Friday 5th February 2021.
Moving forward >> NESA will be providing further guidance, however we are applying for temporary extension as we believe our course meet the new stated PD objectives. Once know the outcome of this application we will updated this page.
To find out more about the changes to PD provision in 2021 go to the NESA website.