Developing Early Childhood Approaches for Children with Additional Needs.
To Register Now & Pay Later/Invoice Your Organisation - explained below
This Accredited Training Course includes:
● 7 Lessons
● 5 Hours Accredited Content PLUS:
✅ Bonus 2 hours special training video after completion & certificate
● Accompanying Handout
● 10 weeks to complete the course
● IT Support
● Certificate Issued on Completion of Course
● 30 Day Guarantee
● Tax Invoice Issued Immediately
Bonuses
✅ Transcript of Whole Course (refer back to forever)
✅ Webinar & Certificate (2 Hour Teacher Identified)
✅  Q & A with Sue throughout the course
✅ Ongoing Individual Email Support  - Direct access to Sue's personal email
✅ $20 Off Sue Larkey 5 Hour Online Course Coupon
Other Awesome Bonuses
✅ Webinar - Seven Key Strategies for Success
✅ Using Cooking to Teach Everything - webinar & tips.
✅  Deep Dive into Toilet Training - webinar & tips
✅ Handout & Timesavers.
✅ Certificate 2 Hour (Teacher Identified)
Will This Course Work for Me?
Is there a Certificate? Answer – Yes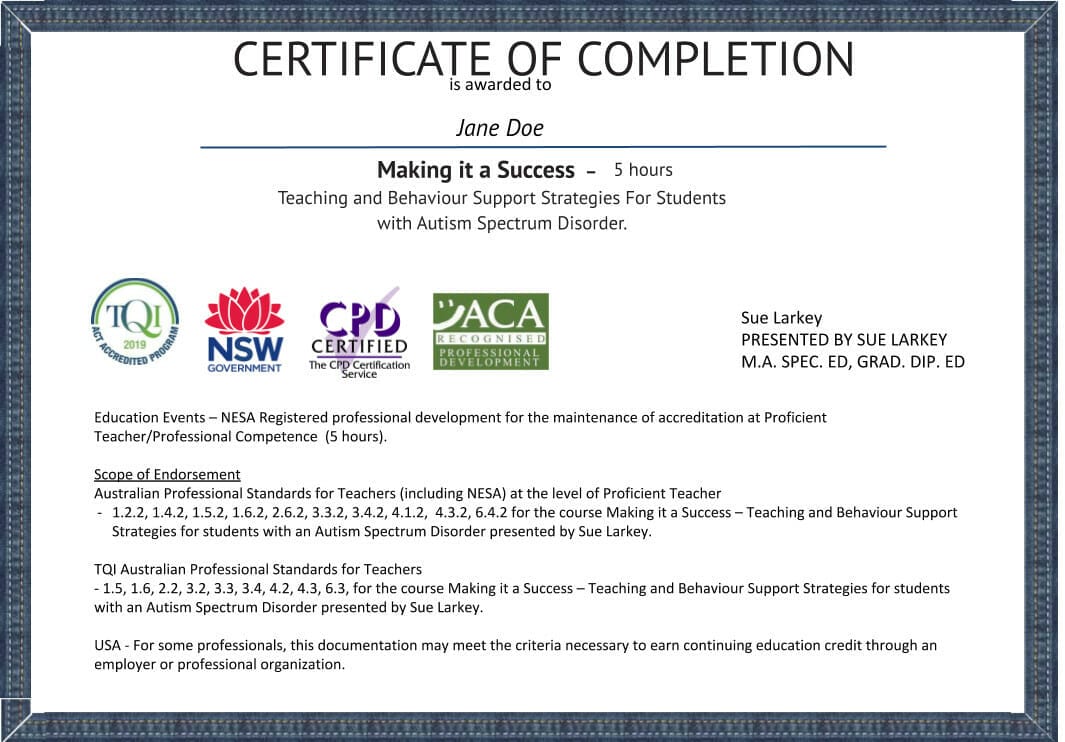 Can I Change my mind? Answer – Yes
(if find not for you after 2 Lessons or 30 days – 100% Money back)
Download Online Course Flyer
Register Now & Pay Later
We can start you on the Course and invoice your Organisation directly to pay later.
Email Geoff at [email protected]
Groups - Register Now & Pay Later
Email Geoff -  [email protected] the following:
Person's Full Name (for Certificate)
Person Direct Email Address (for the login and course details)
School/Orgnanisation Name
Person Name and Email to send invoice
Developing Early Childhood Approaches for Children with Additional Needs.
"I found the course to be a huge amount of help to assist ASD children in the classroom. I love these beautiful children and now have more confidence to put strategies into place that will help them find their way in the world. Thanks again for your great work."
"You would have to be one of the best presenters I have seen. It has been fantastic and I have really benefited (as will the families and children I work with) in applying many of the strategies in my work as an Earlylinks/ inclusion project worker"
" You have really helped me see children's behaviour from their perspective and given me the tools and understanding to support them in a positive and more effective way.
I have now taken on the Educational Leader's role at a new preschool and really want to guide these educators in their inclusive practices.  Which means I am going to be drawing on all of your wisdom and resources so these children have really great outcomes"
"Huge thank you for sharing your knowledge, understanding and passion for teaching kids on the spectrum. I have gained a much greater understanding of ASD and Autism from participating in your online course and have taken away a great toolbox of strategies to try in the classroom. "