REPLAY – Sue Larkey's FREE Live Virtual Webinar
Getting Ready for 2022
Top Tips for Transition
What you will learn:
Transition Tips including – Back to School from Learning at Home, Preschool – Primary School, Primary to Secondary & more
What to do if you can't do onsite visits
The KEY strategies for Teachers, Teacher Assistants, Families & More
Sensory challenges to be aware of when returning to school from Learning at Home / Starting in a new classroom 2022
Certificate of Attendance is only issued for

Participation in the Virtual Workshop & Online Course (not for this Free Webinar)
---
Prize Draw Now Closed
🎁  Prizes are no longer available 🎁
Congratulations to all the winners!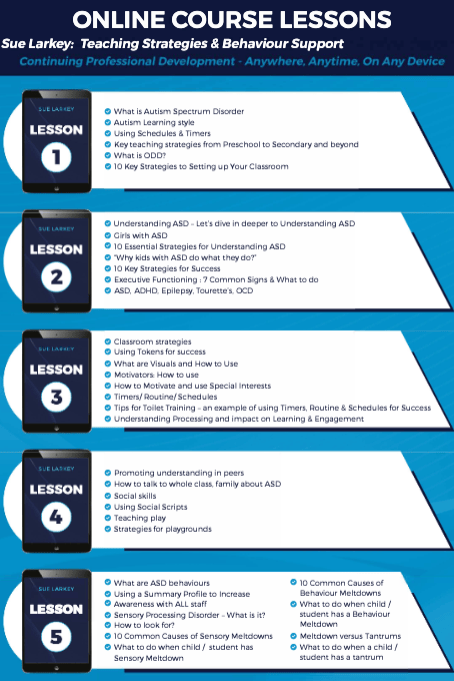 This Accredited Training Course includes:
● 5 Lessons
● 5 Hours Content PLUS
✅ Bonus 2 hours special training video after completion & certificate
● Accompanying Handout
● 10 weeks to complete the course
● IT Support
● Certificate Issued on Completion of Course
● 30 Day Guarantee
● Tax Invoice Issued Immediately
Bonuses
✅ Transcript of Whole Course (refer back to forever)
✅ Webinar & Certificate (2 Hour Teacher Identified)
✅  Q & A with Sue throughout the course
✅ Ongoing Individual Email Support  - Direct access to Sue's personal email
✅ $20 Off Sue Larkey 5 Hour Online Course Coupon
Other Awesome Bonuses
Understanding Behaviour To Create Calm Classrooms
✅ Webinar Creating a Calm Classroom (Whether you are teaching Online, Face to Face Classroom or a combination of both)
✅ How Educators Can Proactively Manage Challenging Behaviour to Create Calm Classrooms
✅ A Guide to Understanding Behaviour FREE E-book with over 50 tips and strategies
✅ Special Podcast for Graduates - Deep Dive into Understanding Behaviour
✅ 2 Hour Certificate for Professional Development - Teacher Identified 
Will This Course Work for Me?
Is there a Certificate? Answer – Yes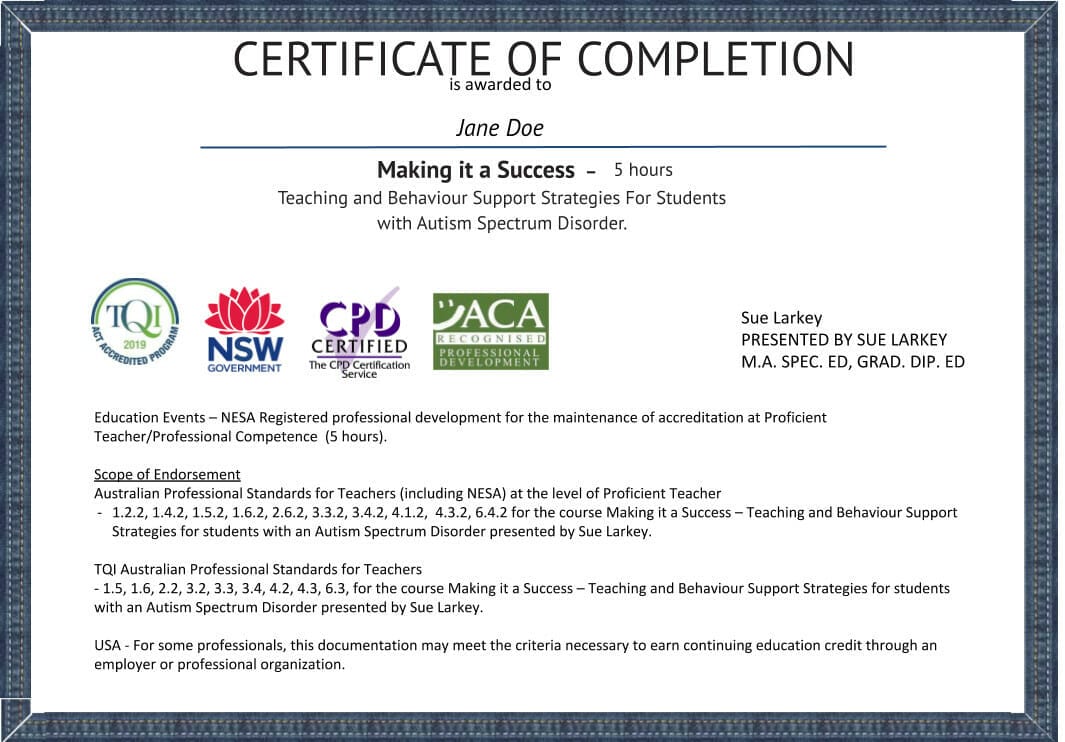 Can I Change my mind? Answer – Yes
(if find not for you after 2 Lessons or 30 days – 100% Money back)
Can you please pass on to Sue that her course has made the life of one little girl in my room a whole lot easier. Only diagnosed with severe autism this year – the first year of Kindergarten – I was at a loss as I had never taught a child with autism before. This little girl has made me a better teacher and I think, a better person! So on behalf of her, and myself please tell Sue she is changing lives
"My son's teacher said it's the best in- service she has ever had! She has had an epiphany! She understands it all so much better. She has some great ideas for the aide! She feels empowered and inspired! This is so great for all her future students too."
I had heard great things about all of Sue Larkey's courses. I completed the 45 minute course 'Key Strategies for Success' and found this extremely useful.  I then chose to complete the longer course. Not only did this course give me a very extensive range of strategies to try,  I now have a much clearer understanding of ASD, what it can look like and that it is never the same in two children."
Accredited 5 x 1 Hour Course
The Course can be used for Teacher Professional Development Hours in All States
See Website link below for more details
Making it a Success – Teaching and Behaviour Support Strategies for students with an Autism Spectrum Disorder presented by Sue Larkey will contribute 5 hours of NESA Registered PD addressing 1.2.2, 1.4.2, 1.5.2, 1.6.2, 2.6.2, 3.3.2, 3.4.2, 4.1.2, 4.3.2, 6.4.2 from the Australian Professional Standards for Teachers towards maintaining Proficient Teacher Accreditation in NSW
Register Now & Pay Later
We can start you on the Course and invoice your Organisation directly to pay later.
Email Geoff at [email protected]
Groups - Register Now & Pay Later
Email Geoff -  [email protected] the following:
Person's Full Name (for Certificate)
Person Direct Email Address (for the login and course details)
School/Orgnanisation Name
Person Name and Email to send invoice
Access to this free live webinar on Transition is available to Sue Larkey subscribers (this is free).
Getting Ready for 2022. Top Tips for Transition.
Transition includes: change in teacher, change in room, change in students in the class not just starting preschool, school, high school and beyond.
The nature of ASD is such that transition can be extremely stressful, no matter what age or how BIG or SMALL the change may be.
My Proven Strategies you can put in place immediately to get ready for 2021
In this Free Live Virtual Workshop You Will Learn:
1. The More we Share the More we can Prepare
2. Managing Change = Managing Anxiety
3. The importance of Visits /Virtual Visits & what to do
4. Information to share with staff for 2022.
Why Is This Free Webinar for Me?
Set Up for Success - the Child, Teacher & their Classmates
The nature of ASD is such that transition can be extremely stressful, no matter what age or how BIG or SMALL the change maybe.
Will make a huge difference implementing these strategies for not just the child on the Autism Spectrum but for everyone involved
Be Prepared
What to do
When to do
Why to do
Past Viewees Feedback
"I felt this is a great option when you live in a different country and I didn't think it was any less effective by not being there in person. Thanks Sue for some great PD"
"Thanks again for a very helpful session. The practicality you teach us is useful for ALL teachers and ALL students. You include a good dose of commonsense !!! Simply, with humour and relevance."
"A timely, informative, enjoyable Webinar presented in an authentic way with back up links posted as discussed so focus could always be on the content. the breakout rooms were a lovely way to connect with others. I loved your presentation style and ideas on how to engage participants in the chat. I learnt a great deal of the 'need to know' details that is hard to find. The direction to useful resources was valued too."
Save You Time ... Lots of Time
Join for proven tips and strategies