FREE TRAINING WEBINAR & E-BOOK
How Parents/Carers
Can Help Support Children Who Learn & Engage Differently to Learn at Home.
Autism Spectrum, ADHD, ODD, PDA & more
In this Learn at Home Free Training Webinar
You Will Learn:
Get a Tip Sheet to Guide you to set up Learning from Home

How to Set up At Home Learning 

BE able to Identify Specific Strategies to Support your Children 

And More!
In this Parents/Carers E-Book 
You Will Learn 79 Different Strategies & Tips:
Top 10 Tips to Stay on Task
12 Key Strategies for Success
7 Considerations for Supporting Children at Home
10 Tips to Remember when Teaching Social Skills
10 Ways to Use Cooking to Teach Everything

BONUS free recipe to download

 

Supporting Children who are not Focusing or Following Directions
11 Strategies for Understanding Behaviour
Sue Larkey
Presenter -
Sue Larkey is unashamedly passionate about her mission – to inspire parents and educators and teach them how to Make it a Success. Sue Larkey is uniquely positioned within the education system having taught both as a primary school teacher and a special education teacher. She is a highly qualified educator who has taught students with autism spectrum disorder in the mainstream and special schools. She combines practical experience with extensive research having completed a Masters in Special Education and currently undertaking a Doctorate in Education. Winner of Naturally Autistic 2013 International Award for Community Contribution.   Sue has authored many books on autism spectrum disorders. She believes that armed with the tools of understanding and confidence, much can be achieved.
Author of Many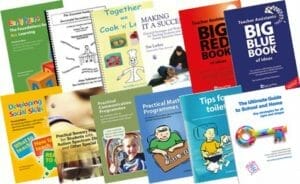 Popular Books