DOWNLOAD YOUR FREE E-BOOK NOW
How To Set Your Classroom Up For Success
Top Tips for a Successful Neurodiverse Classroom
(ASD, ADHD, ODD and PDA)
In this Setting Up Your Classroom For Success E-Book 
You Will Learn 100+ Different Strategies & Tips:
* The 13 Most Important Strategies
* Bonus 5 Proactive/Prevent Strategies Often Missed
* How To Support Motor Skills Development in A Busy Classroom (& Why it matters!)
* Key Elements for your Individual Education Plans (IEPs)
* Anxiety Management = Time Management – Top Tips
* Special Bonus – Key To Get the Best out of Students with ADHD
* 21 Surprising Ways Timers can get support Students engage & Succeed
* Pit Falls & Common Mistakes Made using Timers
* How and Why to Use Visual in Complex Classrooms.
* Interoception – the impact and what Educators can do about it.
* Solutions/Ideas to Sensory Processing Disorder or Difficulties in the Classroom
* 9 Essential Strategies for Homework
* 6 Key Strategies for Quick Results in Secondary School
Ready to go to the next level of understanding & confidence
See below for details of my upcoming live virtual events and online courses.
Live Virtual Workshops – Interactive, Engaging, & Personalised with your questions
Making it a Success: Teaching & Behaviour Support Strategies for Students with an Autism Spectrum Disorder
Online Accredited Courses – Watch Anytime, Anywhere & Any Device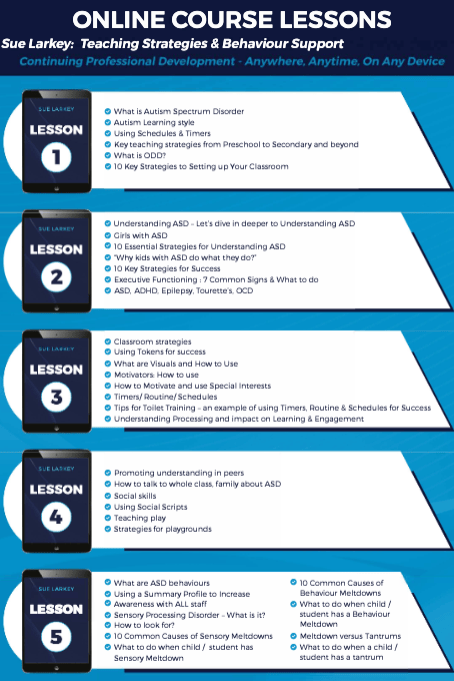 This Accredited Training Course includes:
● 5 Lessons
● 5 Hours Content PLUS
✅ Bonus 2 hours special training video after completion & certificate
● Accompanying Handout
● 10 weeks to complete the course
● IT Support
● Certificate Issued on Completion of Course
● 30 Day Guarantee
● Tax Invoice Issued Immediately
Bonuses
✅ Transcript of Whole Course (refer back to forever)
✅ Webinar & Certificate (2 Hour Teacher Identified)
✅  Q & A with Sue throughout the course
✅ Ongoing Individual Email Support  - Direct access to Sue's personal email
✅ $20 Off Sue Larkey 5 Hour Online Course Coupon
Other Awesome Bonuses
Understanding Behaviour To Create Calm Classrooms
✅ Webinar Creating a Calm Classroom (Whether you are teaching Online, Face to Face Classroom or a combination of both)
✅ How Educators Can Proactively Manage Challenging Behaviour to Create Calm Classrooms
✅ A Guide to Understanding Behaviour FREE E-book with over 50 tips and strategies
✅ Special Podcast for Graduates - Deep Dive into Understanding Behaviour
✅ 2 Hour Certificate for Professional Development - Teacher Identified 
Will This Course Work for Me?
Is there a Certificate? Answer – Yes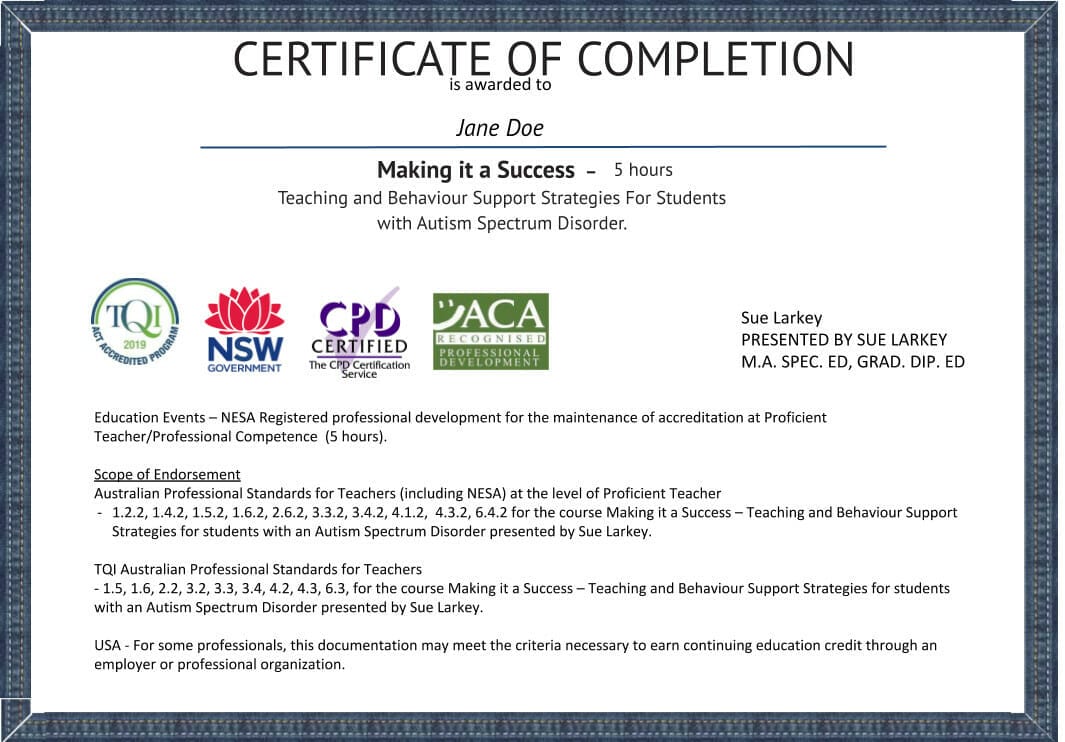 Can I Change my mind? Answer – Yes
(if find not for you after 2 Lessons or 30 days – 100% Money back)
Can you please pass on to Sue that her course has made the life of one little girl in my room a whole lot easier. Only diagnosed with severe autism this year – the first year of Kindergarten – I was at a loss as I had never taught a child with autism before. This little girl has made me a better teacher and I think, a better person! So on behalf of her, and myself please tell Sue she is changing lives
"My son's teacher said it's the best in- service she has ever had! She has had an epiphany! She understands it all so much better. She has some great ideas for the aide! She feels empowered and inspired! This is so great for all her future students too."
I had heard great things about all of Sue Larkey's courses. I completed the 45 minute course 'Key Strategies for Success' and found this extremely useful.  I then chose to complete the longer course. Not only did this course give me a very extensive range of strategies to try,  I now have a much clearer understanding of ASD, what it can look like and that it is never the same in two children."

Accredited 5 x 1 Hour Course
The Course can be used for Teacher Professional Development Hours in All States
See Website link below for more details
Making it a Success – Teaching and Behaviour Support Strategies for students with an Autism Spectrum Disorder presented by Sue Larkey will contribute 5 hours of Registered PD addressing 1.2.2, 1.4.2, 1.5.2, 1.6.2, 2.6.2, 3.3.2, 3.4.2, 4.1.2, 4.3.2, 6.4.2 from the Australian Professional Standards for Teachers towards maintaining Proficient Teacher Accreditation in NSW
Register Now & Pay Later
We can start you on the Course and invoice your Organisation directly to pay later.
Email Geoff at [email protected]
Groups - Register Now & Pay Later
Email Geoff -  [email protected] the following:
Person's Full Name (for Certificate)
Person Direct Email Address (for the login and course details)
School/Orgnanisation Name
Person Name and Email to send invoice
Sue Larkey
Presenter -
Sue Larkey is unashamedly passionate about her mission – to inspire parents and educators and teach them how to Make it a Success. Sue Larkey is uniquely positioned within the education system having taught both as a primary school teacher and a special education teacher. She is a highly qualified educator who has taught students with autism spectrum disorder in the mainstream and special schools. She combines practical experience with extensive research having completed a Masters in Special Education and currently undertaking a Doctorate in Education. Winner of Naturally Autistic 2013 International Award for Community Contribution.   Sue has authored many books on autism spectrum disorders. She believes that armed with the tools of understanding and confidence, much can be achieved.
Author of Many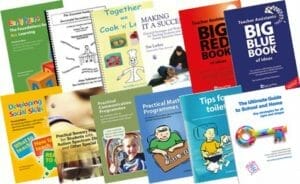 Popular Books
You need to subscribe to download this ebook.
Please complete the form to access this ebook