FREE TRAINING WEBINAR
How to Teach Children Who Learn & Engage Differently In Early Childhood.
My Proven Strategies you can put in place immediately to increase engagement and participation for children under 6 years old.
In this Webinar you will learn:
Understanding Different Learning Styles
How to adapt activities to meet ALL children's learning needs
5 Key Ways to make Learning Fun
Strategies to help children with separation anxiety
Embracing difference to make a difference
Strategies to increase engagement and participating during mat time
The ONE strategy I wish I knew years ago for helping children with fine motor skills
We hate spam as well. You can unsubscribe anytime and we don't share emails.
Why Is This Free Webinar for Me?
Neurodiverse Challenge #1 Not Every Strategy Works for Every Child
You need to review 100s of ideas and strategies to find the ones that work and/or you can modified for the child you know. Let me help guide you with where to start & what to do.
Neurodiversity Challenge #3 Finding the Right Strategies to work for diverse range children
You get access to strategies that have worked with 100s of different children … and will make a huge difference to them and you!
Neurodiverse Challenge #2 Many Children are A Waiting Diagnosis in the Younger Years
Diagnosis is a slow process, often in Early Childhood we notice the child learns and engaes differently, but they do not have an official label yet. I will help you identify Neurodiverse children.
Neurodiverse Challenge #3 How to Adapt your programme to ensure they ALL children are learning
Every child is different and it can take time to develop a programme that meets each child's individual needs. Let me show you the key ways to adapt tasks to individual children.
Save You Time ... lots of time
You could spend hours searching the internet for ideas … or one course that logical, practical and research based strategies.
Sue Larkey
Presenter -
Sue Larkey is unashamedly passionate about her mission – to inspire parents and educators and teach them how to Make it a Success. Sue Larkey is uniquely positioned within the education system having taught both as a primary school teacher and a special education teacher. She is a highly qualified educator who has taught students with autism spectrum disorder in the mainstream and special schools. She combines practical experience with extensive research having completed a Masters in Special Education and currently undertaking a Doctorate in Education. Winner of Naturally Autistic 2013 International Award for Community Contribution.   Sue has authored many books on autism spectrum disorders. She believes that armed with the tools of understanding and confidence, much can be achieved.
Author of Many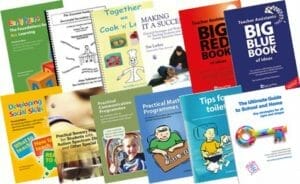 Popular Books